Haslet, Texas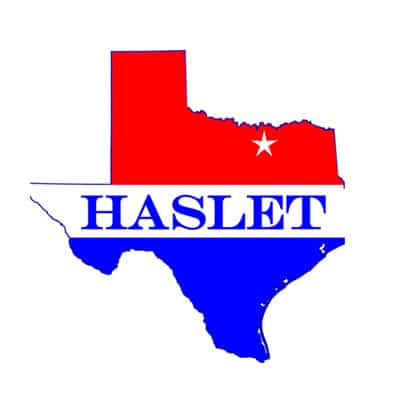 Haslet is a city in Denton and Tarrant counties within the Dallas–Fort Worth metroplex in the U.S. state of Texas and is located 15 miles north of downtown Fort Worth and 20 miles south of Denton. Haslet borders Interstate 35W, U.S. Highway 287, and Alliance Airport.
Demographics
As of the census of 2010, there were 1,517 people, 533 households, and 454 families residing in the town. The population density was 151.2 people per square mile (58.4/km²). There were 533 housing units at an average density of 53.6 per square mile (20.7/km²).
Economic Growth
Considered a major intermodal hub, Haslet has an excellent transportation and distribution network via major highways, BNSF Railway Intermodel and Alliance Airport. DFW International Airport is 30 minutes away.
Haslet's primary trade area is expected to grow to 531,887 by 2015. With a build-out of only 20% of available sites, Haslet is positioning itself to attract new corporations and businesses. Haslet offers a property tax rate of 29 cents per $100.
Other corporate distribution/warehouse centers in Haslet include:
Amazon Fulfillment Center
International Aviation Composites (IAC)
Coca Cola Company
Exel, Inc.
FedEx Freight
KFS, Inc.
Michael's
SC Johnson & Son, Inc.
Volkswagen
Williamson-Dickie
Kraft
Living in Haslet
The City of Haslet provides a safe, rural setting for families. Haslet's award-winning Northwest Independent School District, low crime rate and dedicated fire department make the city attractive for families. Haslet's Sports Association presents an impressive array of organized sports. Annual events include:
Haslet Hustle
Halloween Haunted Hayride
Christmas Tree Lighting
Wild West Fest and Rodeo
July 4
We know Haslet best! – Let us manage your Haslet, Texas property
Real estate prices in Haslet are as diverse as the many things there are to see and do around the city. Homes and condominiums can be had for under $100,000 while those seeking more luxury accommodations can find properties for $300,000 and up. Rentals run along the same wide scale, from affordable to upmarket.
Herman Boswell knows Haslet – which also happens to be our home base – like no one else. We not only help landlords with services like applicant screening, rental advertising and real estate marketing analyses, but also prospective tenants and buyers as well. For the service excellence that's been our hallmark for the last quarter century, think Herman Boswell!
A Real Property Management Firm, Will Protect Your Property?
Real Property Management Services – Arlington, TX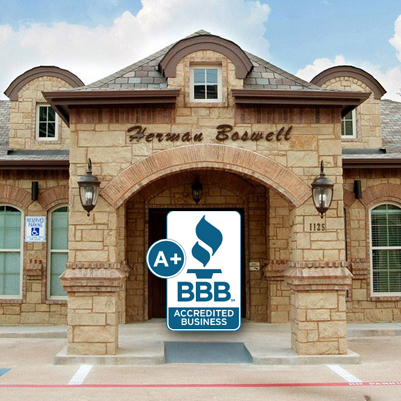 If you're a landlord, finding – and keeping – good tenants, overseeing accounts and ensuring that the property itself is always in good repair are just some of the many things that can keep you busy every day (and sometimes night) of the week. But when you're so busy keeping up with your properties, managing obligations to family or other jobs can become especially challenging.
Herman Boswell Property Management – a company that has served North Texas with pride for nearly 40 years – can help. Our dedicated property managers know exactly how to advertise your properties for maximum visibility and keep the number of vacancies on your property at a minimum. And when it comes time to make those necessary repairs, we know the right contractors to call.
With regard to potential tenants, we screen each person carefully to ensure that you'll get the best, most responsible people living in your home, apartment complex or condominium. And because Herman Boswell knows that your property represents a substantial investment, we make it our business to ensure rent gets collected on time and do regular inspections to ensure tenants are maintaining their rental units well.
Our real estate managers, know about real property management, and place a high value on cultivating good relationships with the people who rent from you. That's why we also make sure that tenants have access to a 24-hour on-call agent to handle tenant emergencies. At the same time, we know how to also deal with problem tenants who need to be evicted from your property.
You have a life to live and assets to protect. Herman Boswell helps you do both by giving you the peace of mind you deserve.
Get Your FREE Rental Analysis Today!
Our full service property management provides you with:
Get a FREE Rental Analysis Today!