WHEN YOU CAN'T RENT YOUR UNITS
It happens. Despite all your marketing and advertising efforts, you just can't seem to find good tenants – or any tenants at all – for your rental home, apartment or condominium. And you have no idea how to fix the situation.
However desperate you may feel, don't succumb to the temptation of loosening your screening requirements for new tenants. A bad renter – someone who pays rent late, damages the rental unit or disturbs other neighbors – is not worth the price of getting the unit occupied.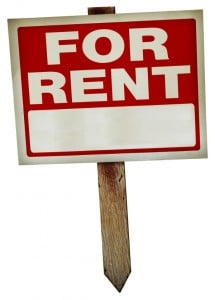 Instead of taking a chance on a risky tenant, ask yourself the following questions:
(1) Is the rental price I'm asking too high compared to similar properties?
If so, consider lowering the rent. Check rents of comparable rentals in your community on websites like Craigslist and visit a few properties that are similar to yours. You may discover that charging slightly less than what seems to be the going rate is a good way to find and keep great tenants.
(2) Does my rental house, apartment or condominium need repair work?
The condition of a rental unit may be affecting tenant interest. Simple things – like a paint job, new carpeting or window coverings – could make the difference between whether your unit gets rented or continues to remain untenanted.
(3) Is my print and/or online rental ad failing to draw in prospective clients?
Compare your ads to those you might find in similar venues. You may find that you'll need to rewrite and/or repackage the contents of the ad to make it more appealing.
(4) Would I attract more prospective tenants if I allowed pets?
If you don't allow pets, consider changing your policy. You may have more paperwork to deal with, but many landlords find that tenants who own pets are more responsible, appreciative and stable than those who don't.
(5) Would tenant incentives – like a resident referral program – help me get new renters?
Some landlords have great success with programs in which they pay a premium to pre-existing tenants who refer other lease-signing renters to them. If you don't have a lot of other tenants, consider offering new tenants things like:
• free rent for one month
• free parking
• free satellite service
If you do provide incentives, be sure to offer them in a way that is both fair and consistent to avoid charges of housing discrimination.
The experts at Herman Boswell can help you get your units rented without compromising your bottom line. That's because we know the real estate market in North Texas like no one else. When you need help from experts who treat your real estate investments like their own, contact us!